Big Problems, Little Problems … just breath and think!
And READ!
Braiding Sweetgrass: Indigenous Wisdom, Scientific Knowledge and the Teachings of Plants should be part of every policy maker's research!!

… And Read !! Great Quotes from Great Leaders
"I have found the best way to give advice to children is to find out what they want and then advise them to do it." – Harry S. Truman
"Walk with me." – That is the command I use with Bella, as I don't like "Heel."  As a puppy she nipped and Mia the 3 year taught her the command "calm." It was a big problem and after 3 professional trainers  and watching lots of videos, ended up using techniques from the classroom I used with students who were management problems, some had Asperger's and ADHD.  Now at 3 years Bella has matured and is a therapy dog for both myself and my husband. She brings me joy in my life.
A problem is that the book "Big Problems, Little Problems" is it is not free, so leaves out the very students who are stressed and need access to this story. Time to put heart over money.  It is chemistry: colostrum + testosterone … building health together.  We need champions to help children practice what this dad does to teach his son to solve the daily challenges of life.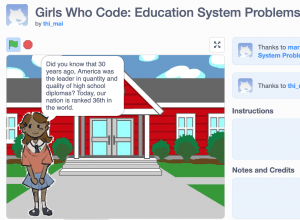 Our NCWIT Aspirations in Computing National Winner is one of those champions.  Sonia collaborated with Westside High School students to create a PSA during their lunch hour Girls Who Code Club.  They addressed a big problem, equity in schools. See their product at https://scratch.mit.edu/projects/699228905.
Another champion is computer science teacher and Houston AiC Educator of the year Meg Willette. Meg is a conversation leader who helps others understand how computer science is aligned to what they teach.
I am so proud of my Girls Who Code club. We had girls join the club at the beginning of the school year who have never coded before. They focused learning Scratch, a block based programming language. The national GWC challenged clubs to focus on an area that they are passionate about. The girls were passionate about equality of education in America.
See the NCWIT summit to learn the power of champions.
I am upset at myself for making a number of decisions lately that I regret. Like cutting off a tree branch, I can't put it back. But when I step back and look at the big picture, I see my mistake. These include not attending events due to time conflicts and trashing a school STEM project. These are just little problems compared to the big problems happening in our world.  I do know that little decisions are eat at my soul and talking to others who understand my mindset and writing helps.
That that is why I tweeted this today: "Please add Education Reform to your March. After-all the shooter was a high school dropout and the police did not have the critical thinking skills needed to make the decision to take immediate action. "  Reading the
article by an Ulvalde pediatrician increases the need to change the education system even more.  Like doctors who have the expertise to make decisions for their patients, it is the teachers along with parents as partners who should be making decisions for their classroom time.
I am currently trying to downsize and give away my books and teaching materials.  I was honored at the White House for that history.  In one book I decided to keep,  "Great Quotes from Great Leaders" , the first quote was by Winston Churchill: "It is a mistake to look too far ahead.
Only one link in the chain of destiny can be handled at a time." I now know that I need to not make the same mistake and just reorganize and hopefully find someone who can use my history.  I need to find those links in the chain. Is that you?  Just ask and sharing will bring me joy like my Bella.
One thing nice about posting online, is that decisions are easy to change. And I can easily find past ideas unlike physical objects. It is history that needs to be kept. It is links to former students like Ashley Turner whose vision as a change agent feels my heart. There are links to ideas to help students find their creative passions through playfulness. We must produce creative thinkers and inventors.
These are a few online resources, but I have lots on this site: