GARDENING IS ART IN THE GREAT OUTDOORS
It is so much easier if it grows naturally.
"Flowers teach us how to live in the present moment. Last week while driving down the street, I saw an elderly Asian man helping his granddaughter ride her tricycle. He picked a few fuchsia-colored azaleas to place in her helmet. She was smiling widely, and our eyes met in mutual delight." — Lucia Bettler, "A Feast of Flowers: Nourishment for the Spirit"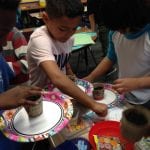 "What would happen if the whole world was planted with marigolds?"
This question led to looking for this pictures and finding – Build structures you can grow. And wondering if in their Spark Park they will do this. I wonder about the gardens my students started at Piney Point along with many community volunteers sponsored by a Scott's Gro1000 Grant and Keep Houston Beautiful.
Which came from Read Across the Globe Points of Light at HISD Piney Point Elementary when I read along with 50 MDPC volunteers "Farmer Will Allen and the Gr
owing Table" to Mrs. Lugo's class of 2nd graders in 2016. I read "To all those who've ever planted a seed and watched it grow-farmers who tend food and flowers and tend the earth." – J.B.M. the author.
Then I asked each student, "What seed would you like to plant?" Many said mango because I told them about a seed I dropped in my garden that produced a tree, flower and now a baby fruit. Others said vegetables and flowers, one said marigold after I told them about flowers that repel mosquitoes.  And the question above because I explained "Knowledge is answers to questions." Which led to good insects like Bees. I left and asked them to write down their questions about what they would like see or learn next, as time ran out. I am looking forward to being invited back to hear their ideas. And to tell them after research I was wrong .. It is a papaya tree. Update Feb. 2017: I was not invited back.  My tree produced fruit again, but alas, it froze.  I really didn't think it would get that cold in our Houston freeze.  I should have taken the time to cover the tree.  But, I did cover my Kalanchoes which have beautiful red blooms.
How trees inspired the renewable plastic of the future
Have you seen the robotic flower garden?
Teachers must build on children's CURIOSITY!  Teachers need to provide time to grow knowledge and build from the lesson plan foundation. Teachers must give time for experimenting and learning from mistakes.  Teachers must be curious about growing their student's unique brains and have no fear to go beyond lesson plans.
Halliburton and KHOU 11 News team up
Now to get them to join the Hour of Code Teams – Be a Code Buddy in the classroom.
Ask TedE for the story about Zuni and Toto and their computer science in the garden adventures.
LEARNING …