"Together is Better – A Little Book of Inspiration" by Simon Sinek
Hal is my inspiration for CS advocacy.  Would not be doing what I am doing today without Hal.  He takes an idea and takes action.
Hal Speed is a parent in Austin ISD who began his path of computer science education advocacy when he discovered on of his son's high schools offered CS and the other did not.  He is doing so much now, that the easiest way for me to refer to his work is to post links online.  That is what got me to the White House as Champion of Change.  I mainly post lessons to save myself time as a teacher and for my students to use, but discovered this history tells my story.  It was this that the White House used for my award to learn about my advocacy.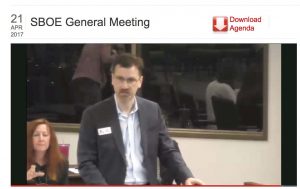 Testifying for Texas CS Standards at SBOE Meeting 4/21
Hal was instrumental in adding computer programming to the LOTE credit for graduation in Texas:
5)  Languages other than English (LOTE)–two credits.

(A)  The credits may be selected from the following:

(i)  any two levels in the same language; or
(ii)  two credits in computer programming languages selected from Computer Science I, II, and III.
Yet in my own school district the LOTE credit was not added to 8th grade MHS Course Selection sheet for Incoming Freshman. Memorial HS is where I graduated in 1966.  And my 8th grandson did not know anything about the endorsements, much less the STEM CS Pathway.  How are we to scale CS Education when students do not know about their options? Can't say the administrators don't, as I believe in think globally but act locally. I have been advocating for CS for years in SBISD. Not sure what more I can do.  Help!!!
Petitioned SBEC to revise Texas CS Certification Requirements.