What sparks your creative thinking?
LET'S HAVE A sTEAm PARTY in Evelyn's Park!
Lets Build a STEAM Curriculum Treasure Hunt
YWCPA Students enchanted by surprise stop after the HACEMOS event
Who are the leaders that can help make this happen?
Do you want an Adventure now or Shall we have our Tea First? – Peter Pan
     "Rosie Gardens in communities across our country will remind people what women achieved in the workplace during WWII and will help to inspire young women to be 21st century Rosie's' by preparing for high tech careers."                                                            – Linda Laurie, Project Leader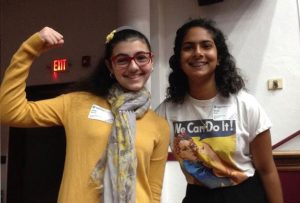 Let's mentor our change agents creating apps for our community –  Girls for a Change.
Let's support our teacher leaders who are making this happen.
Mia, TedE and Becky brainstorming an International Women's
Day tea party. Looking for aspirations.org doers to help make this happen by having conversations and applying for an AspireIT grant.
Let's combine art, math and technology to inspire STEAM TIME in classrooms …

AAUW-WHC Garden Divas at the park during interview.


Want to learn more about Bridgette?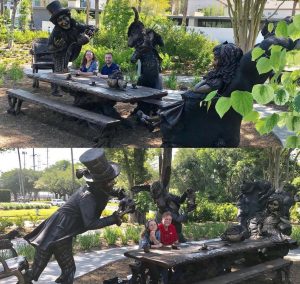 … I HAVE THE BEST CONFERENCE TABLE!
I love that I can schedule business meetings at my sculpture.
This is a great place to
CONNECT CHILDREN TO NATURE.
And a love of Reading.
Raising Arms together – ISTE 2018 – MicroBit Creative Workshop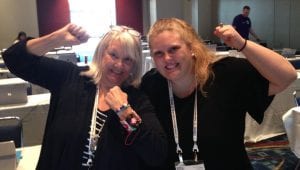 Joanna of Mount Carmel Academy in New Orleans whose passion is to bring coding to her girls.  Small world, we met at ISTE when waiting in line.  To think I went to elementary school named Mount Carmel in Houston.
And as we build community I know that there are many kinds of tea.  Just have to find the ones who share the Memorial Way.  As a 1966 graduate of Memorial High School and grandmother of a current student, I will do everything I can to bring CS to All.