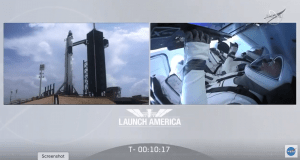 My first job was at NASA when I graduated from high school in 1966.  That led to an aspiration to apply for the teacher in space program.  And continues today as I try to motivate young leaders as a Houston Aspirations.org award coordinator.
Today was also the NCWIT 2020 National Award
Ceremony.  The keynote conversation with Ruthe Farmer and Limor Fried was powerful, like the
Falcon that launched a new future. Limor Fried asked, How will you use the power you have? 
And this boost was continued with the voices of 4 inspirational aspirations.org winners! 

My boost was fueled when I was honored as a White House Champion of Change for Computer Science Education.  Ruthe was also a Champion of Change and the power behind recruiting me to start the Aspirations program in Houston a decade ago. Please use your powers to design a space for you and my grandchildren. Oh, the places we will go!  … Launch2020
My questions perked by #LaunchAmerica:
How long has the station been in space?
What do they do on the ISS? The ISS serves as a microgravity and space environment research laboratory in which crew members conduct experiments in biology, human biology, physics, astronomy, meteorology, and other fields. The station is suited for the testing of spacecraft systems and equipment required for missions to the Moon and Mars.
Accountability for schools should be based on the questions students ask.
Not worksheet questions created by others.
How many educators in Houston are doing the Artemis Generation FY20 ADC Flyer (ADC): nasa.gov/education/appchallenge or contact the ADC team at JSC-M2MSTEM@mail.nasa.gov.
We need an Integrated Communication Loop in Education too.  …  Can we
get almost all the way up? And create capsule art.

Let this be the start of a new Journey in the Classroom that will change education for All!

Thanks for your patience as I push to debug a system that must change the tangled m
ess I see.  The current education system is not working. Time to get Elon Musk type thinkers to make it happen. Where is the control center standing by? Where is Cyber Security?
---
Women can be the leaders that can design new pathways. What beautiful days full of art and inspiration. Thank you to all!!

So, what is missing in the education system? A lack of quality control and feedback. The busy bee is the quality control  agent. We can learn from nature. We can learn from Space. We can learn from the voices not heard!