BUILD-A-BRAIN.COM
Building the Computational Mindset in STEM Education
To scale Computer Science For All
To integrate the foundational CS skills of pattern recognition, decomposition, abstraction and algorithms and the computational thinking dispositions/practices in K-12.  Are you finding roadblocks to scale CS for All? How do you promote STEM integrated thinking through CT/CS? Do other teachers help build the mindset to prepare students; try coding and creating apps? You will be given the opportunity to brainstorm solutions to your unique classroom, school or district. Together is better in dealing with the politics of CS Education!
---
Networking – CREATE on post-it pads (10 minutes)
What brings you joy?  What brings a smile to your heart?
How can you connect that to CT/ CS Education?
Introductions – (10 minutes)

Joe Kmoch,   joe @ jkmoch.com
Karen North,  knorth @ wt.net
John Owen,  johnbowen @ utexas.edu
Sylvia Wood, sgwood01@gmail.com
Together is Better Panel – Brainstorming Discussion (30 minutes)
What are the barriers, the roadblocks to making that happen?
What is the first action item on your pathway?
How can we work together to make it happen for you?
Connect ideas – on post-it pad, twitter @TedE4CS, email (10 minutes)

Who did you meet that you can continue the conversation with?
Administrators – What do you think teachers need to feel joy?
Does testing bring joy?
---
TEA Statewide WBL and STEM Listening Tour
Current activities: What WBL and STEM activities does your school currently offer for you and your child?
Wish list: What kinds of WBL and STEM activities would you be interested in our school offering?
Barriers: What barriers keep your child from participating in these types of STEM and WBL activities?
Support: What information and support do you need to help our child be prepared for whatever career field they are interest in?
Communication: What is your preferred way of getting information about your child's educational opportunities?
---
The 2019 CSforALL Summit theme is Systems Change. As the movement matures, we are challenging the community to dig deep and think long term, moving beyond individual efforts to inspire students and prepare educators, to transforming the systems that will ensure that computer science becomes an integral and sustained part of the K-12 experience, both in and out of schools.
What innovative initiatives that leverage existing infrastructure and networks, work with communities to create local ownership, and support community-led, sustainable implementation of computer science education are part of your school system?

It is the Conversations that matter.
So, how do we broaden participation?  nsf.gov/od/broadeningparticipation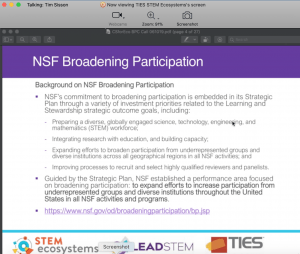 ---
My Goal:
To change the system by the time my 3 year old grand-daughter gets to high school.  The high school that I went to where my grandson currently goes.
One of my solution ideas to start the change:
Every child is required to study math PK-12. To decompose the time problem, I would like schools to require 20/20 time in 2020. That is 20 minutes a week for 20 weeks for computer science integration. UPS can track a package across the world.  Multiple choice testing is taking too much time. 21st century accountability could be tracking the apps a student creates K-12.  Posting products of learning student's create …  "building something just for the joy of building it is something to be proud of " – Make.