---
Thanks to those who joined our AAUW-WHC Garden Divas as we celebrated National Rosie the Riveter Day on March 21, 2019 at 2:30 PM
McGovern Centennial Gardens 1500 Hermann Drive
The garden where we riveted future Rosies like my 3-year old granddaughter Mia …
Celeste Graves, WWII Rosies, Anna Garcia, AT&T Strategic Account Lead III, Global Business , HACEMOS SW Regional President receiving Proclamation from Mayor for CSEdWeek supporting 21st century rosies.  HPC Gardener Noreen and Kyle Wolfe volunteer coordinator were the "Rosies" who made it possible for the garden to grow. From an idea, to dirt, to buds, to blooms in one year. That is what is needed for education, rapid change and growth. And hats on to Keep Houston Beautiful Executive Director Amy Reed who helped plant roses after the Hats in the Park event.
---
The Start of a Rosie History Garden
Hermann Park Conservancy's history includes many invaluable women whose unique efforts—over the decades and o
n going—have helped in the mission to maintain and improve Hermann Park, now and for generations to come. Join Hermann Park Conservancy and the American Association of University Women on National Rosie the Riveter Day as we celebrate the contributions of women—yesterday, today, and tomorrow—by planting namesake roses to honor the spirit of Rosie the Riveter.
If you would like help grow riveters and roses please contact the Herman Park Conservancy. To learn about creating histories see https://www.celestegraves.org/.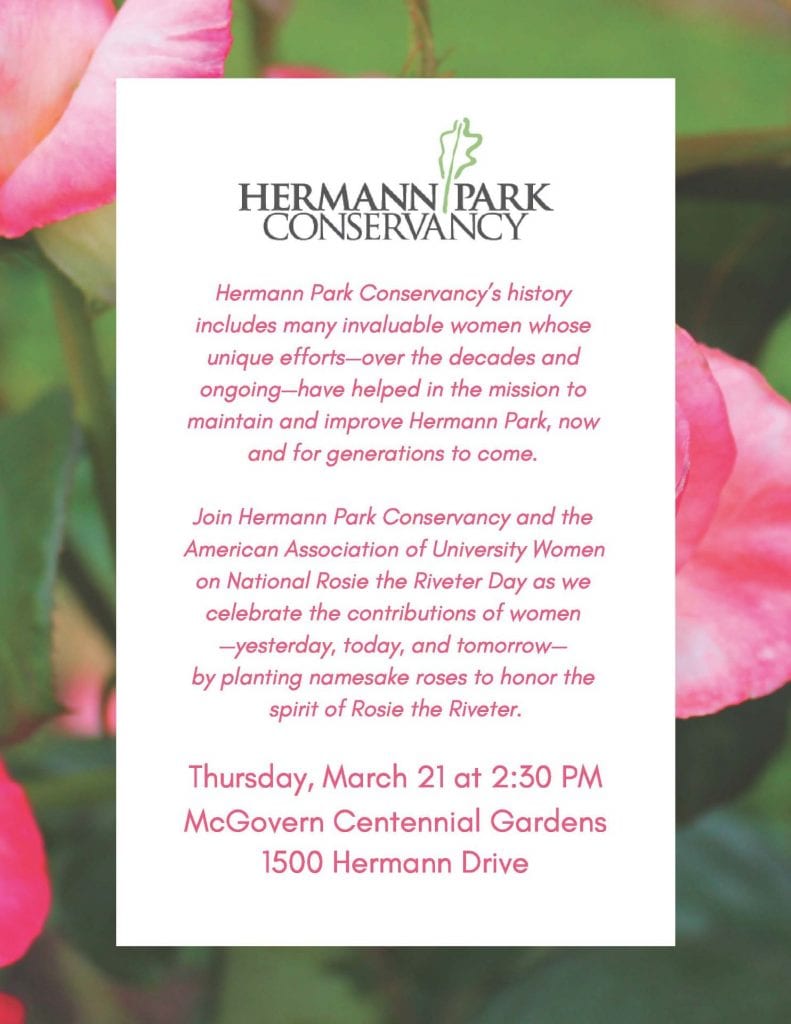 "Stop and Smell the Roses" quote by Bernard Kelvin Clive.  I asked him about this quote.  His answer: "Sometimes we chase after the niceties of life and forget to be thankful and to enjoy the simple pleasures of life. That was the inspiration."
Bernard Kelvin Clive  is a Personal Branding Coach/Brand Strategist at BKC Consulting, Lifestyle Entrepreneur, Amazon bestselling author of 40 published books. Ghana's foremost authority on Personal branding and Digital Publishing who hosts the #1 ranked Business & Career Podcast in Ghana/Botswana.
Just tweeted this riveting procrastination stopper about preparing kids for life. I kept procrastinating doing my breathing exercises that I did for decades when working. I needed to make this a priority so decided to listen to a TED talk. Searched "TED Accountability Testing" and this was first. And from Fargo where my cousin's son is living. Small world and will connect again. Decided to make it a priority to take time to Smell the Roses and went to Bret's wedding in Cleveland last Sept. Stayed in a haunted house with Atlanta cousins .. and promised to go see Jimmy's band in Austin in March where my son lives. So heading there this weekend with my Houston cousin to Stop and Smell the … bluebonnets, as wild flowers are fun too.  Just take the time … that is what schools need to do too!!  Just be a Riveter…