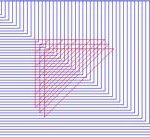 STEAM into "Computer Science for All" by coding in the arts. Lessons to create Mondrian art, digital flowers, snowflakes and a Bee-Bot line dance. Learn about art coding modules developed in technology classes, which lead to The College Board publishing "Supporting Girls in CS by Programming with Graphics" in 2002. Today with many apps using block programming it makes coding graphics so much easier. Please share your ideas to help close the Equity Gap in Computer Science through exposure to coding fun art projects that build computational thinking skills. We must prepare mindset of every child to communicate with computing devices as 50% of jobs are predicted to be automated by 2032.
tinyurl.com/mondrian-art-2017
Details Lessons on the Bee-Bot in the ISTE Book No Fear Code
Pair Programming – Connecting – No Fear Coding
How do you plan to connect the dots?
SOFTWARE / APPS
As I sit here watching my 14 month old grand-daughter explore on her own terms, and read "Soaring into the Future" in the TCEA TechEdge, I wonder why schools are taking so long to make the paradigm shift.  The shift to focusing on teamwork, communication, collaboration and adaptability that the article explains is so essential.  The conclusion by providing opportunities for students to build and practice these skills, we prepare them to soar like an eagle when it's time to leave the nest.  I know that Coding in The Arts is a tool that can help students soar. Next chapter, telling the story with you … as "Together is Better."