COMPUTER SCIENCE FOR ALL
Freedom is earned through education, you are a slave to your own ignorance. – TedE 4 CS
Feb. 1st Lincoln Freedom Day – Building the CS Mindset
Computational Thinking is a process to learn how to think critically.
Do IT when your brain is thinking. As that saves time.
TIME, the missing element in the classroom.
Time for teacher and student innovators to solve real world problems.
TIME to build projects around their aspirations and interests.
Step up to the plate was the message I received at the White House from Valerie Jarrett, Senior Advisor to the President, Lisa Gelobter, Chief Digital Service Officer, R. David Edelman, Assistant to the President for Economic and Technology Policy, John King, Acting Secretary of Education, and Megan Smith, US Chief Technology Officer. I am going to use the voice I have been blessed to have been given to implement change for those in the classroom.
I am hoping a few hands-on tools in this TCEA 2016 workshop will help you step up to the plate.  And bring you some of the funding from Obama's CS for All initiative. I am advocating for all  classroom teachers who give their time to integrate computer science into their daily lessons be given a $10,000 stipend. Like the M.I.T. Invent teams.  After all teaching should not be a volunteer job.  I would like to see a project manager hired for every school to collaborate with the school librarian to build code buddies from the community who help bring every week an Hour of Code to our children. As we must ACT LOCALLY, AS WE THINK GLOBALLY.
Computer science must first be introduced without a computer.  It is the hands-on activities that are more important then the online applications.  The process of designing a solution to a problem, not coding, is what CS is about.  Being able to translate that idea into a language the computer can understand is why coding is such a powerful learning tool.
Integrate Computational Thinking and Coding into Your Curriculum
Karen North, Code.org affiliate, TACSE.org, AAUW, NCWIT, ISTE CTN
Who are You?  Binary Bracelets
Vocabulary Fold-a-Book: Decompose, Abstraction, Pattern Matching, Algorithm
Mondrian Art

Paper Examples: Examples are an essential part of the design process.
Plan on grid paper with RBY and black markers or construction paper.
Art Lessons on my websites
Remembering what is Important
My grandsons would say Basketball
– See HOW he STEPS UP TO THE PLATE in 4th quarter as passing did not work.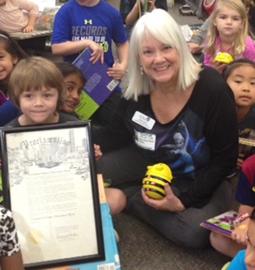 Proven Resources from my 30 years of experience as a CS teacher:
My Web Lessons: