WE DID IT!  On 3/21 in McGovern Gardens in Herman Park our AAUW-WHC Garden Divas will be planting Rosie the Riveter roses.  You are invited to the 2:30 celebration.  The idea started in Portland after working on the ISTE Computer Science Standards. While there went to the International Rose Garden and walked in on the Rosie Celebration. Still have the rose they gave me on my jacket to remind me to keep trying. This is definitely a story of persistence.  But story is better from the 90 year old WASP from Magnolia Celeste Graves who will be attending our Rosie celebration in Herman Park.
     "Rosie Gardens in communities across our country will remind people what women achieved in the workplace during WWII and will help to inspire young women to be 21st century Rosie's' by preparing for high tech careers."                                                            – Linda Laurie, Project Leader
It has taken 75 years … Coveralls for all: What Halliburton learned from Rosie the Riveter.  Change does happen, but needs persistence and leaders to step up and show the way.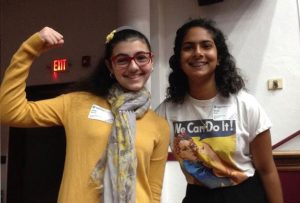 Let's mentor our change agents creating apps for our community –  Girls for a Change.
Let's support our teacher leaders who are making this happen.
Mia, TedE and Becky brainstorming an International Women's
Day tea party. Looking for aspirations.org doers to help make this happen by having conversations and applying for an AspireIT grant. Not happening at Evelyn's Park as does not fit in their master plans.  Brainstorming again to find another location … the cycle of planning.
Let's combine art, math and technology to inspire sTEAm TIME in classrooms … A rose by any other name would smell as sweet", but with this rose the name has great meaning.
Let's design a process for oral histories of Waves, Wacs and code girls.  Join the Rosie Society.  My curiosity: It was said in the book Code Girls that the Army and Navy competed with each other to get women to join their team. How true is this?  Why didn't they work together to break codes?  I am collaborating with my AAUW WISE
Group to scale action.  As Together is Better along with R-E-S-P-E-C-T for everyone's ideas.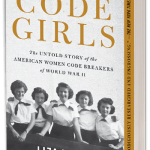 www.lizamundy.com/code-girls/
"Stop and Smell the Roses"
20/20 Hands-on Time in 2020 creating Champions for CSForAll
"Today, just take time to smell the roses, enjoy those little things about your life, your family, spouse, friends, job. Forget about the thorns -the pains and problems they cause you – and enjoy life" ― Bernard Kelvin Clive, Your Dreams Will Not Die