My mother is going to tell my story. Maybe one day I will have a device like Barbie that gives me the power to communicate a little myself. When she goes to conferences to talk about computer science education I get to go with her. At the ISTE 2013 Conference my mother's roommate said I had to have a Twitter handle which I created as @TedE4CS.
At the 2015 Code.org Summit she was presenting on her history of CS Advocacy so I went to help her along with my buddy the Bee-Bot. She is leaving on another trip so will finish her story in August, but I said before you leave please post some pictures of me. She is hoping that those who attended will share their advocacy ideas on the Google form. She is excited that she met rooms full of experts that have done so much more and wants to hear how they did it. At our breakfast table heard these conversatons: ChicagoCodeorgCarl, ChicagoCodeorgDebbie, ChicagoCodeOrgSabrina
I even got to wear Hadi's hat that was wore by the President when he coded. I had dinner with the Texas Team and got to ride the Ferris Wheel with Auntie Ruth and Linda.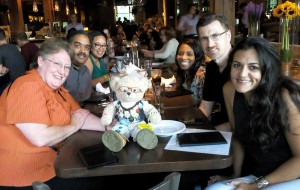 And I got to go to the White House and lots of conferences.